No matter what the weather, our local Dalkey Tidy Towns volunteers did not miss even one scheduled work date in 2017 – a total of 125 work sessions ! In addition, our Tuesday Project Team met 54 times, including special task days. This enormous commitment was rewarded. In recognition, we were both surprised and overwhelmed to receive the five following awards:
1. National Tidy Towns Gold Medal (Pop. 5001-10,000),
2. Ocean Heroes Group of the Year Award (An Taisce),
3. DLRCC Tidy Districts Best Town Perpetual Trophy (Pop. 3,000+),
4. DLRCC Tidy Districts Overall Winner Award 2017,
5. Dalkey Community Council Endeavour Award.

We thank all who have made this possible and also SuperValu Tidy Towns,
DLRCC, An Taisce and Dalkey Community Council for their much appreciated recognition and help. 'And of course, in alphabetical order, we thank our relatively small team of DTT volunteers: Sylvia Briggs, Anne Sophie Bruley, Des Burke-Kennedy, Brendan Clark, Lynda Coleman, Malcolm Connolly, Julie Costello, Marius Covacian, Frank Dillon, Daphne Dukes, Miriam English, Kate Hammond, Brian Hanna, Etsuko Kanamori, Anna Kerr, Miriam Lee, Noel McDonnell, Susan McDonnell, Lisa McEvoy, Alan O'Brien, Flor O'Mahony, Penny O'Neil, Ann Perry, John Perry, Johnny Phillips, Martin Quinn, Mary Rigney, Paddy Rigney, Derek Spiller, Una Thornton, Terry Wheatley and Alan Winter.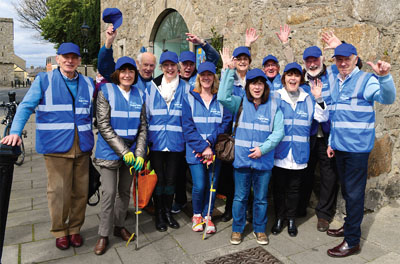 Tidy Towns Team Blue