The very mild weather at the turn of the year brought the usual unseasonable records. I usually see the first year's leaves on a Horse Chestnut in early March but in the second week in January there were new leaves on Sycamores trees on Killiney hill and new leaves on Alder trees in Booterstown. A male Dunnock was singing from the top of a gorse bush on Dalkey in mid January months before he'd normally be expected to and any mild mornings were full of the lovely song of Song Thrushes sounding through the darkness. Love seemed to be in the air for foxes, hearing a male barking below the Vico Road and a little later hearing the same sound in my own garden where later a pair of foxes were observed nonchalantly trotting across the lawn together. Evidently his barking had done the job and won him the heart of a female.

There are now lots of electronic forums that report sightings of rare and uncommon birds, nationwide or specifically for the East Coast such as www.irishbirding.com and East Coast Bird News twitter account. Most of the sightings are reported within a hour (sometimes minutes) or two of being seen with description and location details and if the sightings are of unique enough birds they will set off a little stampede of birders. I rarely ever check out any of the reports finding them more of a source of frustration or regret since I rarely have the time to go and check them out and there's always the underlining thought that I might go on a long journey, get there and not see the bird. I still recall the sense of disappointment I had years ago walking down the track to Broad Lough in Wicklow and meeting a group of birders who had just spent a happy few hours watching a Osprey fishing in the lake until it took to the wing to continue its migration north, about 40 minutes before I arrived on the scene.


But in December when I heard there had been regular recent sightings of a flock of waxwings that was a different matter. Waxwings are spectacular, easily identifiable and there was a flock of them. But the best thing about the sighting was they'd been seen at various locations along Avondale Road in Killiney. Next day I drove the length of Avondale Road on my way home at lunchtime. It was a cold but very sunny day, visibility perfect. I got to the Barnhill Road end but no sigh of any unusual birds. I thought I'd try another look so back around the roundabout and up Avondale Road again. A small tree stood beside the footpath at the crest of the incline, its bare branches backlit by the low midday sun and on top of it was a flock of birds which, although only visible in silhouette, were unmistakably the waxwings. With their tall plume like crest, black eye mask, yellow tips to feathers and tail they look very exotic. You could imagine them in tropical forests but they are northern European birds breeding in coniferous forests near the Arctic circle. A poor berry crop at home sometimes drives them south in what is known as a 'irruption' and this winter brought them to the UK and Ireland in record numbers.
Delighted I'd found them so easily I parked around the corner and got the telescope out to have a good look. I counted them, at least 70 and they stayed there till someone in an adjoining garden came out and disturbed them.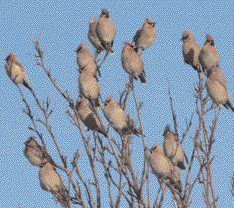 Waxwings on Avondale Road